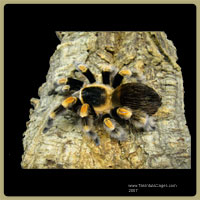 Care Sheet
Mexican Redknee (Brachypelma smithi)
The Mexican Redknee Tarantula is probably the most popular of all pet tarantulas. Native to the Pacific desert of Mexico, it is known to be one of the longest living tarantula species, with females living up to 30 years in captivity. Whether you're a beginner or an advanced hobbyist, you can't go wrong with a Mexican Redknee Tarantula. Due to this spider's gentle nature, colorful appearance, large body size, and long life, it is easy to see why the Mexican Redknee Tarantula is such a desired animal in the hobby.
Range: Pacific desert scrubland of Mexico
Type: Terrestrial
Diet: Spiderlings will eat pinhead crickets, and other small insects. Adults eat crickets, other large insects such as lobster roaches.
Size: 5 to 5.5 inches when fully grown.
Growth: Slow Growth
Temperature: 75° to 80° Fahrenheit
Humidity/Water Requirements: 50 to 60%. All tarantulas that have at least a 3" legspan may drink from a shallow, wide water dish. Spiderlings will require light misting to drink droplets of water.
Temperament: Docile and easy to handle. May flick urticating hairs when disturbed.
Housing: Spiderlings can live in a small clear plastic deli-container with air holes poked with a pin. Use a small amount of substrate such as vermiculite, peat moss or coco fiber. Adults will live in a Large Terrestrial Cage Floor space is more important than height. No decorations are really needed, but you can add a log, or cork bark. Always house tarantulas seperately.